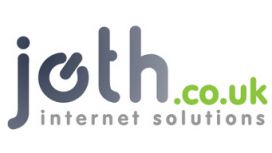 Joth IS was set up with the aim of providing high quality services along with the exceptional customer service that is not always available from larger, less flexible companies. By deliberately selecting a small number of projects at one time, and running with far fewer overheads we are able to provide our clients with the expertise that is needed to produce a great web site. Jon is a highly qualified IT professional with a wealth of experience working in the IT industry.
This has included web site and application programming, quality assurance testing, and operations manager for an large IT firm. A number of highly skilled consultant programmers and designers are used when necessary and there is a dedicated team of support technicians to ensure the highest quality service once your site is live. Our priority is to offer businesses the experience, flexibility and service that they deserve.
---
Reviews and Ratings
We do not have any reviews about Joth Internet Solutions available right now.